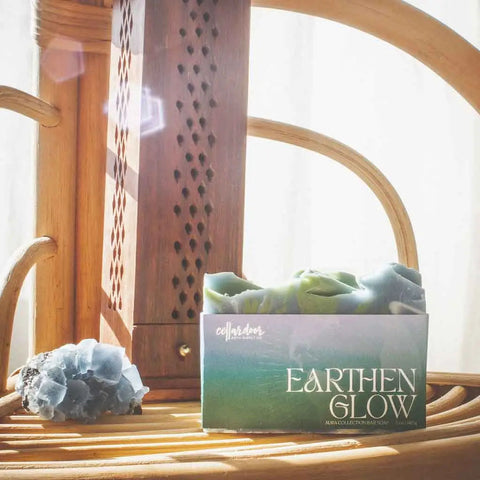 Cellar Door Bar Soap: Earthen Glow
$ 8.00
Cellar Door Bar Soap: Earthen Glow

Smells like: green clover, juicy aloe, fresh herbs


This is the dawning of Aquarius.
The Earth Goddess, Gaia, with her long flowing tresses of clover fields, skin as fresh as Irish moss, covered with a rode of spring flowers were the perfect muse for our Earthen Glow Bar Soap. The freshest showers full of dreams and spring await you.

Ingredients: 
olive oil (olea europaea)
coconut oil (cocos nucifera)
water (aqua)
sustainable palm oil (elaeis guineensis)
sodium hydroxide (lye)
castor oil (ricinus communis)
shea butter (butyrospermum parkii)
fragrance (parfum)
titanium oxide
iron dioxide

100% vegan, biodegradable, sustainable. Free of sulfates, phthalates, synthetic dyes, & parabens. 100% of the time!
This guy has cool friends you'll like!