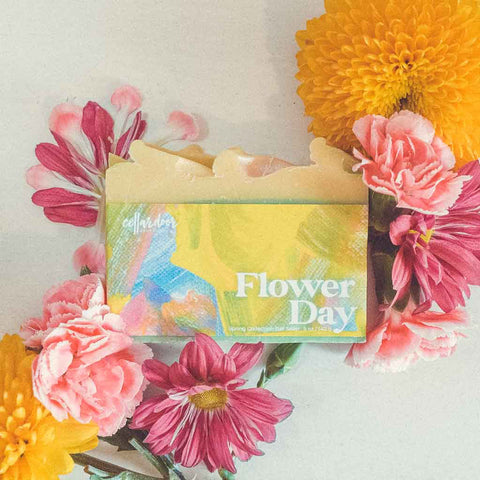 Sold Out
Cellar Door Bar Soap: Flower Day
$ 8.00
This product is unavailable
Cellar Door Bar Soap: Flower Day. Our shop favorite as we're based right in Detroit's Historic Eastern Market!

Smells like: floral greenery. daffodil. english tea rose. tulips.
Is it even Springtime if you haven't been to Flower Day at Detroit's Eastern Market? The colorful, aromatic display of seas of flowering baskets and planters is unlike anything you're likely to see anywhere else. And let's not forget the buskers, the barbecuers, and bless their souls... the people who just want to dance! So grab your wagon and let's kick off this Spring the right way!
Ingredients: 
olive oil
water
coconut oil
sustainable palm oil
sodium hydroxide (lye)
castor oil
shea butter
fragrance
mineral colorant
100% vegan, biodegradable, sustainable. Free of sulfates, phthalates, synthetic dyes, & parabens. 100% of the time!
This guy has cool friends you'll like!