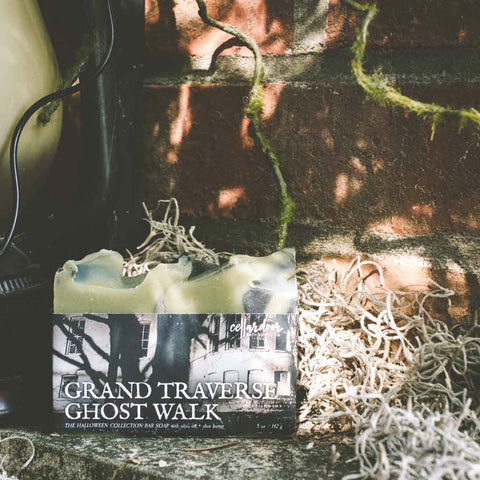 Sold Out
Cellar Door Bar Soap: Grand Traverse Ghost Walk
$ 8.00
This product is unavailable
Cellar Door Bar Soap: Grand Traverse Ghost Walk

Smells like: crisp fall leaves. baby's breath. damp earth.
Portals to hell. Disembodied voices. Doors slamming for no reason. These paranormal events await you at the former Northern Michigan Asylum. And nothing will get you closer to these experiences than walking the grounds of the Grand Traverse Commons for a twilight ghost tour. Whether its history or haunts that you've come for, taking one step inside the tunnels might be all it takes to make a believer out of even the most hardened skeptic.

Ingredients:
olive oil
water
coconut oil
sustainable palm oil
sodium hydroxide (lye)
castor oil
shea butter
fragrance
mineral colorant
bamboo charcoal
100% vegan, biodegradable, sustainable. Free of sulfates, phthalates, synthetic dyes, & parabens. 100% of the time!
This guy has cool friends you'll like!