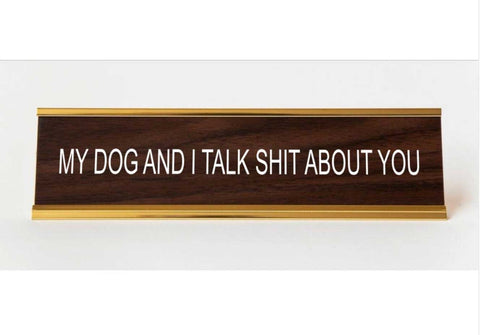 Sold Out
My Dog and I Talk Shit About You, Office Desk Nameplate
$ 28.00
This product is unavailable
My Dog and I Talk Shit About You, Office Desk Nameplate.  Dog moms, dog dads, dog walkers, dog sitters, doggy day care workers - we know we all do! They listen.  And they judge you silently.
• 2x8 inches 
• Laser engraving
• Gold tone aluminum
• Faux wood grain

He Said, She Said takes nostalgic forms and updates them with funny sayings and popular musings from today. Dusty old executive desk-plates have been updated with cheeky newness especially for your naughty sense of humor.

In a hurry? This item is ready to ship!
This guy has cool friends you'll like!