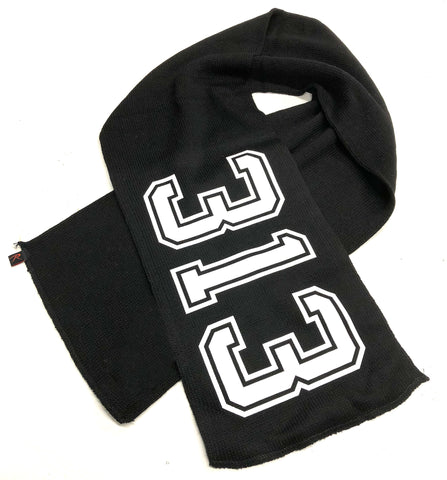 313 Scarf, Wool Scarf, Footballer Style. Detroit Scarf, Black & White
$ 32.00
313 Scarf, Wool Footballer Style. Black and White Detroit Scarf. Live in Detroit, work there, love visiting, or super homesick? Show your pride with the Detroitiest Tactical Sportyball scarf! Designed right here in our Detroit, Michigan studio. 

Double-layer construction traps heat for powerful insulation
Soft and warm yet lightweight
100% wool w/ 313 screenprint
One size fits most (Scarf measures 56 inches X 9 inches)
Wool military-spec scarf is perfect anybody who spends time in ihe Great Outdoors
A Well Done Goods original, these don't exist anywhere else! 

Brave the cold in Rothco's Military Wool Scarf. This scarf is designed with 100% wool, a highly breathable, lightweight and temperature regulating material, with a comfortable feel. The double-layer construction on this military scarf helps to keep your neck warm, trapping natural body heat. Measuring 56 Inches in length and 9 Inches in width, one of this military wool scarf size fits all, making it an ideal gift for anyone in cold weather climates. 
CARE: machine wash in a mesh bag or hand wash cold; lay flat or hang to dry.
This guy has cool friends you'll like!