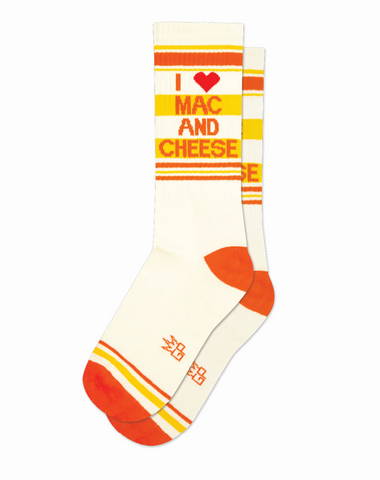 I ❤️ Mac N Cheese Ribbed Gym Socks, by Gumball Poodle. Made in USA!
$ 14.00
Anyone with a soul knows that Mac 'n Cheese will warm theirs 💕. Whether you like it gourmet with a little baked cheese roof and garnish, or you're just buying the instant boxes so you can go to town on those little cheese dust packets… your love is valid. It is warm. It is saucy 🧀🧀🧀. Let these socks warm your feet while you fill your tummy 😋.
61% Cotton, 36% Nylon, 3% Spandex.
Made in the USA.

One pair.

Cushioned terry bottom for enhanced fit and feel.

Unisex, one size fits most.
Fits women's size 6 US to men's size 13.
What happens when a vintage T-shirt collector gets excited about an election? Gumball Poodle! Their Obama socks (the world's first presidential knee socks) garnered national press, and the brand was born! Gumball Poodle draws on bold colors, vintage style & the art of self-expression to produce fun socks that let you tell the world what you think without saying a word. Fun, high-quality socks, made in the USA. Woman-owned company.
This guy has cool friends you'll like!