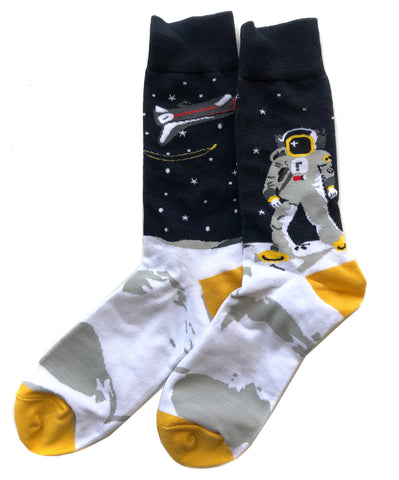 Astronaut on the Moon Socks
$ 8.00
Astronaut on the Moon Socks. Let everyone know you need your space and Celebrate one "Giant Leap for Mankind" with each step you take in these outta-this-world socks. Houston, we're going to have a problem if you don't treat yourself to these!! Now that we live in times where you go about most of your day indoors, sans real shoes, live it up a little!
70% cotton, 25% poly, 5% spandex

One pair

Men's/Unisex

Sock size: 10-13

Shoe size: 6-11

Woven

Machine wash, tumble dry low
Super soft & comfy, these socks are perfect for when you have to maintain being a professional but still have that burning desire to be fun & silly! This item is available for immediate shipping.
About shoe sizes:  These work for women too, we suggest shoe size US 7.5 or above.
This guy has cool friends you'll like!