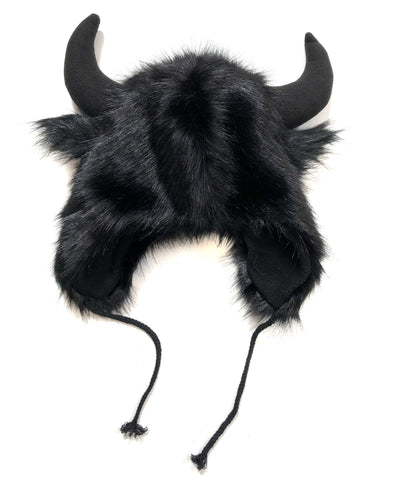 Sold Out
Black Faux Fur Hat. Horned Ear-Flap Hat, Stuffed 3D Horns. Goat / Ox / Steer
$ 29.00
This product is unavailable
Had enough with spirit-gumming 10,000 rhinestones to every inch of your meat-suit, on a night colder than a witch's you know whattie? Is this the year to phone in your halloween costume, maybe sit in your jammies and hand out candy til the scary hour of 8pm? Or maybe every day is halloween and this is your new daily driver? Whatever's your speed, these cute 3D stuffed ones will keep it horny and will always be on call as a last minute emergency costume.
Soft, silky black faux fur

Black
3D stuffed horns and little fuzzy ears

Tie strings

Ear flaps to keep super warm
Fleece lined
This guy has cool friends you'll like!