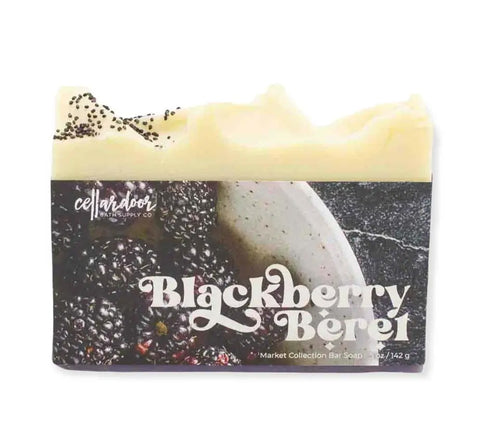 Cellar Door Bar Soap: Blackberry Beret
$ 8.00
Cellar Door Bar Soap: Blackberry Beret*. Smells like: sun-ripened raspberries. sweet vanilla beans. Hop on your bike and take a ride down by old man Johnson's farm. Find that hidden clearing by the edge of the woods that only you know about where the blackberries are as sweet as the summer sunshine. Flatten out a blanket, kick back, and watch the clouds roll by while you take in the fresh country air. Then, after that long bike ride back, grab a bar of Blackberry Beret to wash away the purple stains from an afternoon well spent.
Use it for: relaxing showers. face wash. hand soap. washing up after trying on way too many hats at the second hand store.
Ingredients:
olive oil
water
coconut oil
sustainable palm oil
sodium hydroxide (lye)
castor oil
shea butter
fragrance
mineral colorant
poppyseed
*The soap formerly known as Raspberry Beret.100% vegan, biodegradable, sustainable. Free of sulfates, phthalates, synthetic dyes, detergents, SLS and SLES & parabens. 100% of the time!
This guy has cool friends you'll like!