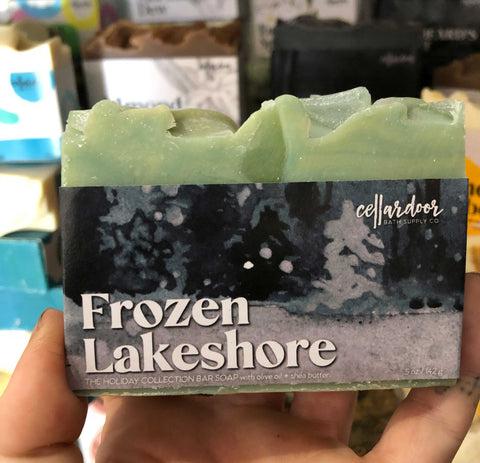 Cellar Door Bar Soap: Frozen Lakeshore
$ 8.00
Cellar Door Bar Soap: Frozen Lakeshore. Smells like: blue spruce. vanilla. eucalyptus. black currant

Use it for: ce balls rolling in on the shore of lake michigan, ice caves on grand island, frozen waves building up on towering lighthouses. It's another winter along michigan's fresh coast. The chilly air along the shoreline is a little too cold to really smell, so here's our interpretation of Michigan's frozen lakeshore. And lucky you, you get to enjoy it in the warmth of your own home!
Ingredients: 
olive oil
water
coconut oil
sustainable palm oil
sodium hydroxide (lye)
castor oil
shea butter
peppermint essential oil
spearmint essential oil

mica
titanium dioxide
100% vegan, biodegradable, sustainable. Free of sulfates, phthalates, synthetic dyes, & parabens. 100% of the time!
This guy has cool friends you'll like!