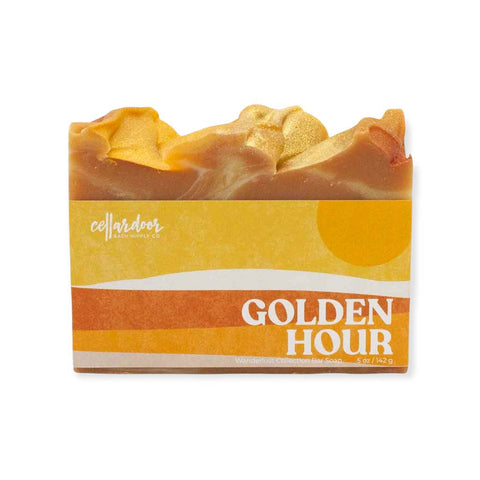 Sold Out
Cellar Door Bar Soap: Golden Hour
$ 8.00
This product is unavailable
Cellar Door Bar Soap: Golden Hour

Smells like: coconut milk, sandalwood, tonka beans, cedar

Not today snooze button..not today!
"It was the magic hour, the moment in time when every leaf and blade of grass seemed to separate, when sunlight, burnished by the rain and softened by the coming night, gave the world an impossibly beautiful glow." -Kristin Hannah

Ingredients: 
olive oil (olea europaea)
coconut oil (cocos nucifera)
water (aqua)
sustainable palm oil (elaeis guineensis)
sodium hydroxide (lye)
castor oil (ricinus communis)
shea butter (butyrospermum parkii)
fragrance (parfum)
mica
iron oxide

100% vegan, biodegradable, sustainable. Free of sulfates, phthalates, synthetic dyes, & parabens. 100% of the time!
This guy has cool friends you'll like!