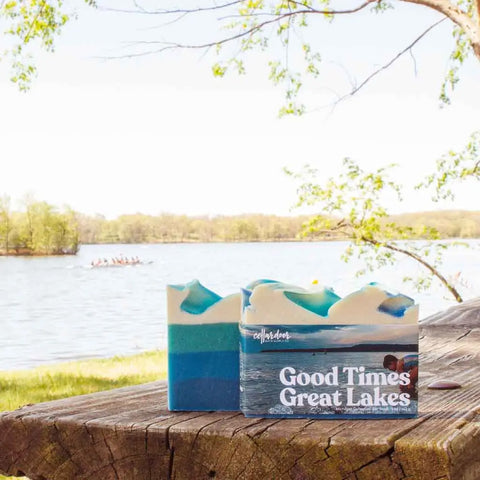 Sold Out
Cellar Door Bar Soap: Good Times Great Lakes
$ 8.00
This product is unavailable
Cellar Door Bar Soap: Good Times Great Lakes. Smells like: fresh rain. eucalyptus. spearmint leaves.
Ingredients:
olive oil (olea europaea)

coconut oil (cocos nucifera)

water (aqua)

sustainable palm oil (elaeis guineensis)

sodium hydroxide (lye)

castor oil (ricinus communis)

shea butter (butyrospermum parkii)

fragrance (parfum)

mica

titanium dioxide
What's your favorite Great Lake? It's Lake Michigan isn't it? Or maybe Lake Superior? Actually, it's gotta be Lake Erie. But now I'm thinking Lake Huron is pretty nice, too. Ope, almost forgot about Lake Ontario! Don't worry Ontario, we're not mad at you for being so far away. It's all love in the great lakes state!
100% vegan, biodegradable, sustainable. Free of sulfates, phthalates, synthetic dyes, detergents, SLS and SLES & parabens. 100% of the time!
This guy has cool friends you'll like!