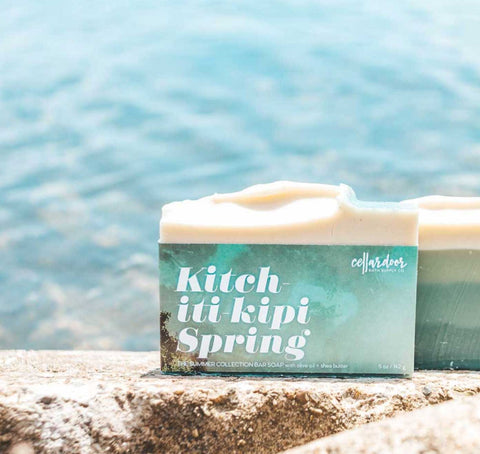 Cellar Door Bar Soap: Kitch-iti-kipi Spring
$ 8.00
Cellar Door Bar Soap: Kitch-iti-kipi Spring. Smells like: michigan cactus. summer rain. ostrich fern. wet limestone.

crystal clear turquoise water. deafening silence. being at one with nature. this and so much more await you at Kitch-iti-kipi in michigan's upper peninsula. its name literally means "big cold water", so you may want to save the skinny dipping for the hotel pool after the kids go to sleep. if hotel security busts you, just scream "pure michigan" at the top of your lungs and make a break for the front entrance. works like a charm every time.*

Ingredients:
olive oil (olea europaea)

coconut oil (cocos nucifera)
water (aqua)
sustainable palm oil (elaeis guineensis)
sodium hydroxide (lye)
castor oil (ricinus communis)
shea butter (butyrospermum parkii)
fragrance (parfum)
mica

iron oxide
100% vegan, biodegradable, sustainable. Free of sulfates, phthalates, synthetic dyes, & parabens. 100% of the time!
This guy has cool friends you'll like!