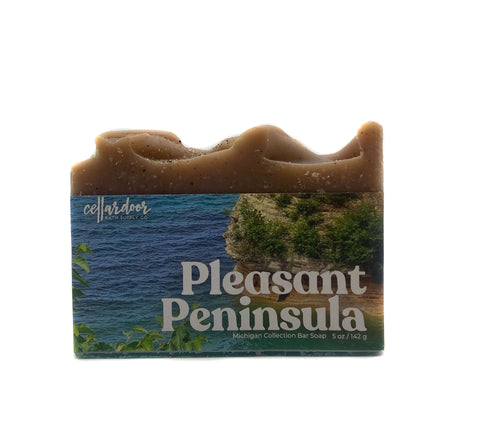 Sold Out
Cellar Door Bar Soap: Pleasant Peninsula
$ 8.00
This product is unavailable
Cellar Door Bar Soap: Pleasant Peninsula. If you seek a pleasant peninsula, look about you! Everyone knows about the great lakes, but there's more to this great state than just lakes. With 5 national parks, pictured rocks, and more waterfalls than you can count, you could wander your whole life and still not see everything Michigan has to offer!
Scent notes: amber. Marigold. Woods. Petrichor.

Ingredients:
olive oil (olea europaea)
coconut oil (cocos nucifera)
water (aqua)
sustainable palm oil (elaeis guineensis)
sodium hydroxide (lye)
castor oil (ricinus communis)
shea butter (butyrospermum parkii)
fragrance (parfum)
iron oxide
mica
oats
coffee
sand
100% vegan, biodegradable, sustainable. Free of sulfates, phthalates, synthetic dyes, & parabens. 100% of the time!
This guy has cool friends you'll like!