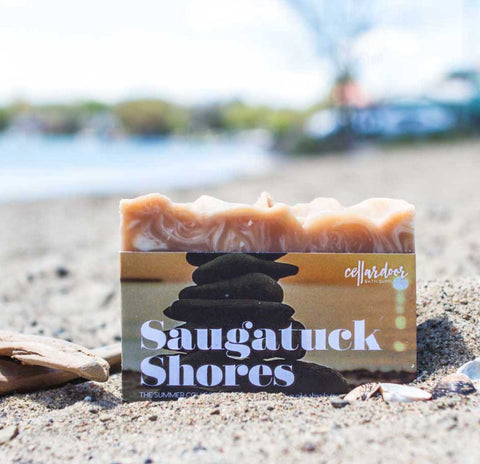 Cellar Door Bar Soap: Saugatuck Shores
$ 8.00
Cellar Door Bar Soap: Saugatuck Shores. Smells like: vetiver. dried coconut. sun-washed driftwood.

maybe you're trying to have a little fun on oval beach. maybe you're just looking to do a little shopping on Butler Street. or just maybe you're really trying to do your best imitation of Napoleon Dynamite's grandma by doing some sweet jumps out on the sand dunes. wherever your day in Saugatuck takes you, you're gonna need a bar of Saugatuck Shores to wash up later on. because you know as well as I do that sand goes everywhere. and I do mean everywhere...

Ingredients:
olive oil (olea europaea)

coconut oil (cocos nucifera)
water (aqua)
sustainable palm oil (elaeis guineensis)
sodium hydroxide (lye)
castor oil (ricinus communis)
shea butter (butyrospermum parkii)
fragrance (parfum)
pumice
titanium dioxide
iron oxide
100% vegan, biodegradable, sustainable. Free of sulfates, phthalates, synthetic dyes, & parabens. 100% of the time!
This guy has cool friends you'll like!