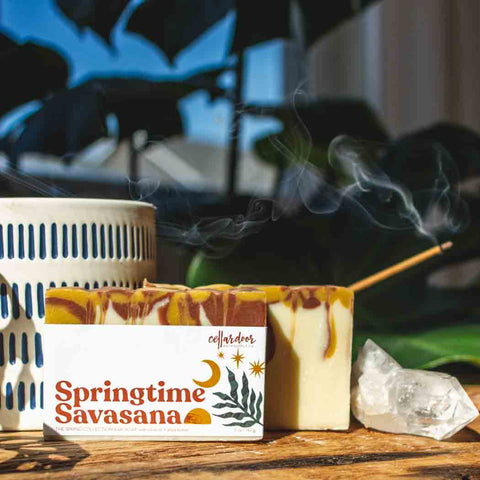 Cellar Door Bar Soap: Springtime Savasana
$ 8.00
Cellar Door Bar Soap: Springtime Savasana

Smells like: nag champa. sandalwood. frangipani.

We've just made it through the winter from hell, and now that spring's here, it's time to chill. Kind of feels like one of those days where you want to skip the whole yoga class and get right to savasana and just stay there until you drift off to slumber. Maybe even do it in an open field where the crocuses are poking through and the grass is just starting to green. Yeah, that's how I want to greet spring.

Use it for: energetic showers. face wash. hand soap. raising the vibrations of you and those around you. which we could all use right now.

Ingredients: 
olive oil (olea europaea)
coconut oil (cocos nucifera)
water (aqua)
sustainable palm oil (elaeis guineensis)
sodium hydroxide (lye)
castor oil (ricinus communis)
shea butter (butyrospermum parkii)
fragrance (parfum)
iron oxide
titanium dioxide
100% vegan, biodegradable, sustainable. Free of sulfates, phthalates, synthetic dyes, & parabens. 100% of the time!
This guy has cool friends you'll like!