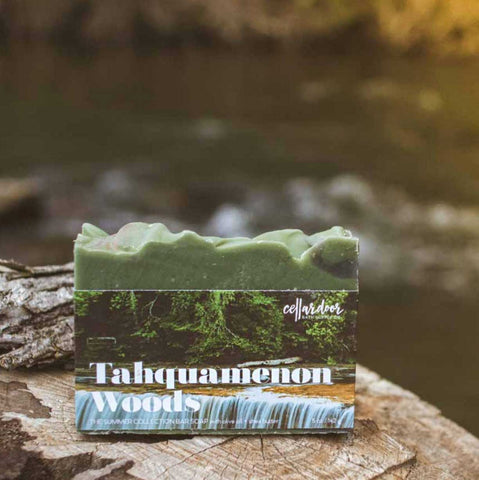 Cellar Door Bar Soap: Tahquamenon Woods
$ 8.00
Cellar Door Bar Soap: Tahquamenon Woods. Smells like: aged teakwood. gardenia. toasted coconut. vanilla.

niagara falls, shmiagara falls... been there, done that. What you really need is a good long hike through the woods surrounding America's third largest waterfall, Tahquamenon Falls. from the rusty tannins in the water to the lush green of the treeline surrounding the falls, this is nature in its purest form. remind yourself of its majesty every day by lathering up with a bar of Tahquamenon Woods soap. at the very least it'll help wash away the sweat from your hike.
Ingredients:
olive oil (olea europaea)
coconut oil (cocos nucifera)
water (aqua)
sustainable palm oil (elaeis guineensis)
sodium hydroxide (lye)
castor oil (ricinus communis)
shea butter (butyrospermum parkii)
fragrance (parfum)
iron oxide
bamboo charcoal
100% vegan, biodegradable, sustainable. Free of sulfates, phthalates, synthetic dyes, & parabens. 100% of the time!
This guy has cool friends you'll like!