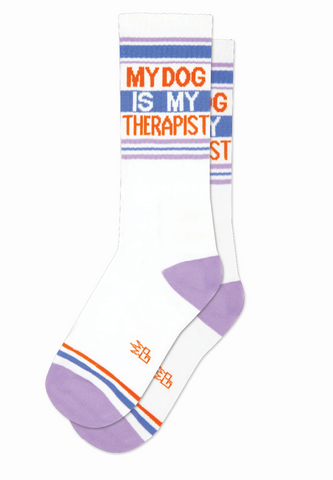 My Dog Is My Therapist Gym Crew Socks, by Gumball Poodle. Made in USA!
$ 14.00
After a long stressful day, there's no better therapist than your best bud. They offer a variety of treatments, including wagging their tail whenever they see you, rolling over and asking for belly rubs, or pushing their wet little nose into you so as to say "hi, I love you". There is no better therapist than your dog, so get some socks to celebrate your hero 🐶 .
Made in the USA. REALLY MADE, not just designed.  Like woven!

61% Cotton, 36% Nylon, 3% Spandex.

One pair.

Cushioned terry bottom for enhanced fit and feel.

Unisex, one size fits most.
Fits women's size 6 US to men's size 13.
Gumball Poodle draws on bold colors, vintage style & the art of self-expression to produce fun socks that let you tell the world what you think without saying a word. Fun, high-quality socks, made in the USA. Woman-owned company.
This guy has cool friends you'll like!