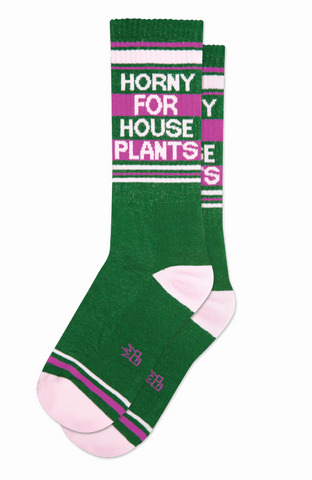 Horny For House Plants Gym Crew Socks, by Gumball Poodle. Made in USA!
$ 14.00
 These socks are the best way to show your love for your house plants, without any messy clean up! (Also safer than being directly affectionate to your cacti 🌵 😉 )
Made in the USA. REALLY MADE, not just designed.  Like woven!

61% Cotton, 36% Nylon, 3% Spandex.

One pair.

Cushioned terry bottom for enhanced fit and feel.

Unisex, one size fits most.
Fits women's size 6 US to men's size 13.
Gumball Poodle draws on bold colors, vintage style & the art of self-expression to produce fun socks that let you tell the world what you think without saying a word. Fun, high-quality socks, made in the USA. Woman-owned company.
This guy has cool friends you'll like!