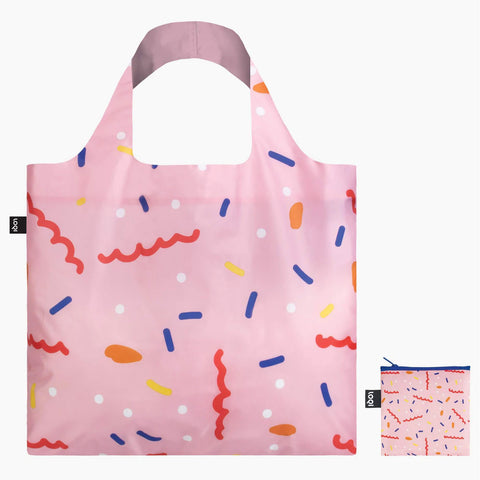 LOQI Artist Series Record-Size Tote Bag: CELESTE WALLAERT Pink Confetti Tote Bag
$ 14.95
LOQI Artist Series Record-Size Tote Bag: CELESTE WALLAERT Confetti Tote Bag.
LOQI
 collaborates with artists from around the world to bring 
officially licensed bags that are the 
most original designs possible. They're lightweight enough to have about you at all times, for all stuff-carrying emergencies! These less-than 2 oz bags can comfortably hold 50+, 12" vinyl records, you can crate dig all day!
Pink Confetti

, Artist Series collab.
Bag: 20" x 16.5"; Handles: 10.6" -

 

yes, big enough for vinyl records!
4.5" zipper pouch included that holds the full size bag
Reusable & washable

Water resistant and OEKO-TEX@ certified
Weighs only 1.98 oz. and can carry up to 44 lbs!
A dance. A glance. A magical chance. CÉLESTE WALLAERT and her lovable ladies take us on a journey full of musical movements, crazy confetti and shining space shapes. Feel the rhythm and dance towards the stars!
This guy has cool friends you'll like!