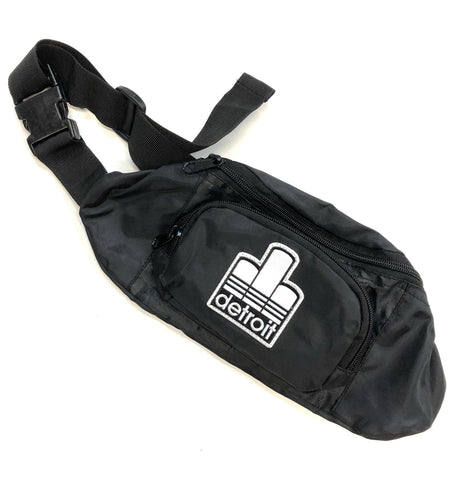 Detroit Renaissance Trefoil Black Crossbody Fanny Pack, Logo Parody
$ 19.00
Detroit Renaissance Trefoil Black Crossbody Fanny Pack, Logo Parody. Keep your shxt together! Well Done Goods' waist bags are not your granny's fannys. Extra long strap fits all body types and aren't just for your waist - wear on your bum, belly, hip, cross body or over the shoulder. 
Fanny pack measures 13.5" x 5" x 5"
53-inch adjustable quick release strap can fit around your waist or across the chest
300D Rothco oxford poly exterior, water-resistant PVC interior

3 zippered pockets to hold all your essential gear

Main zippered pocket measures 13.5" x 5"x 5"; front zippered pocket 13.5" x 5" x 3.5"; back zippered pocket 4.25" x 13.5" x 0.5". 

Embroidered patch sewn on front pocket
If you've ever hiked, or camped, or...been outside ever, you should be familiar with the adage "Leaves of three, let them be." Well, we leave absolutely nothing be around here, so we Detroited a very famous thing with another famous Detroit building thing, but is it a building thing or a middle finger thing? It's up to you!

Stitched-on in the USA in our Detroit Michigan studio, located in Historic Eastern Market.
This guy has cool friends you'll like!