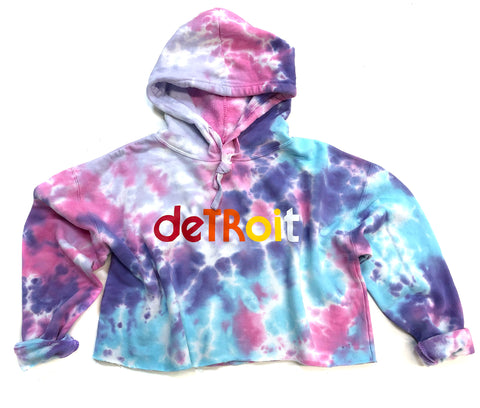 Detroit Rhythm Composer Cotton Sky Tie Dye Cropped Hoodie, Limited Edition
$ 59.00
Detroit Rhythm Composer "Cotton Candy Sky" Tie Dye Cropped Hoodie, Limited Edition. We painstakingly re-drew and Detroited the iconic vintage music machine font you know and love. Whether you get the sonic history reference or just like the sunset colors, it's all good!
Limited edition, once this fleece stock is gone, it's gone!

6.5 oz., Premium fleece

Vibrant 4-color printing ink for "detroit"
Purple, pink, blue & lavender tie dye, each is unique!
Waist crop, not too short, not too long, just right!
Raw edge at bottom
Choose XS-L
Ribbed cuffs, dyed-to-match-drawstring
Flowy cropped raw-edge waist, women's sizing, relaxed fit.
Hand screen printed in the USA in our Detroit Michigan studio, located in Historic Eastern Market. 
See all our Detroit Rhythm Gear!
Original illustration, new from 
Well Done Goods
.
This guy has cool friends you'll like!