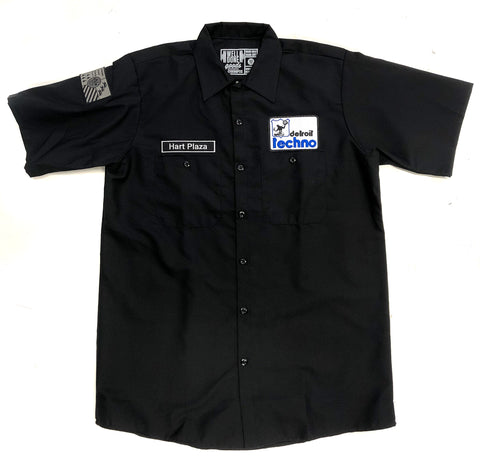 Detroit Techno Fun Police Button Up Shirt ,Black Or Grey. Triple Patch, DPD Old Logo Parody
$ 59.00
Detroit Techno Fun Police! We've all heard of cosplay, but how about some COPSplay! Your favorite folks to see at the rave, amirite? Yeah not so much. But these Fun Police make sure you're having the best time and have ample candy. Citations given for inferior sound. 
4.5 oz., 65% polyester / 35% cotton poplin
3 embroidered patches: vintage DPD Techno; Hart Plaza, Blackout Detroit Flag on sleeve
Patches sewn on, not just heat applied

Pencil stall (glow stick?) on left pocket

S-4XL
Men's sizing
Hand patched up in the USA in our Detroit Michigan studio, located in Historic Eastern Market.
This guy has cool friends you'll like!