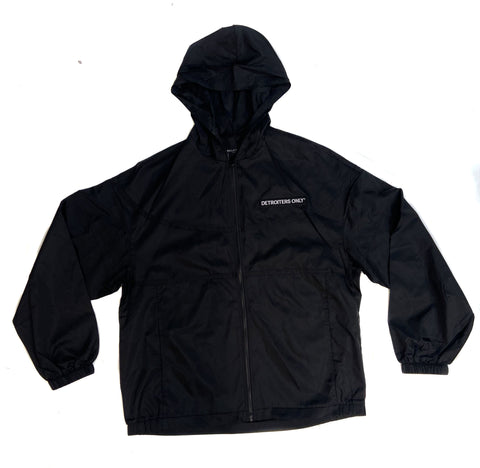 Detroiters Only Windbreaker, Black Nylon Hooded Wind Breaker Jacket. 80s Logo Parody
$ 59.00
NEW! Do you even reMEMBER that 80s brand? Psst: DETROIT has been an iconic cultural brand since 1701. This drip drips with a bit of snark. Special Easter egg in the ®. 
Premium Bella Canvas Windbreaker
100% Nylon
Side pockets
Zipper front
Embroidered patch on left chest
Choose S, M, L
Choose Full zip or quarter zip with front pocket
Full zip runs a bit big - loose fit!  Safe to size down one for a more fitted look

Unisex fit.
Original illustration, new from Well Done Goods. Hand printed in the USA in our Detroit Michigan studio, located in Historic Eastern Market, since 2006.
*If you've stuck it out here for a minute, this one's for you. It's not Canton Techno. The Motor City isn't talking about Livonia. We love our 'burb friends but some things can only be understood by Detroiters Only.
This guy has cool friends you'll like!