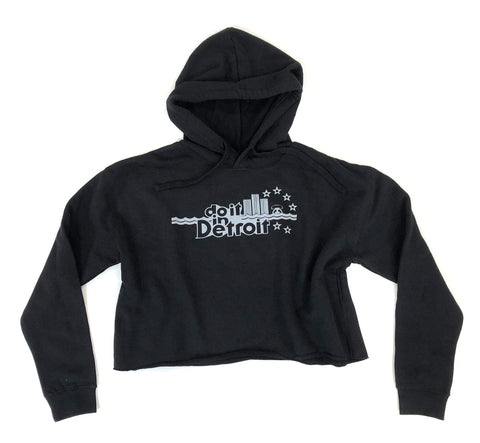 Do It In Detroit Cropped Hoodie. Mayor Coleman Young Slogan, 1984 Vintage-Style Women's Cropped Pullover Hooded Sweatshirt
$ 42.00
We resurrected a classic that many said...wasn't so classy... The other "Do It" slogan by that rather famous sneaker company didn't drop until 1988, so as per usual in Detroit, we did it first, at least when it comes to doing it. You'll never want to take this one off - the poly/cotton brushed fleece brings an unmatched level of ultra snuggly comfort!

6.5 oz., Premium Bella+Canvas sponge fleece

52% Airlume combed and ring-spun cotton, 48% poly fleece

Choose black, military green, or storm grey

Ribbed cuffs, dyed-to-match-drawstring

Flowy cropped raw-edge waist

Women's sizing, relaxed fit

Modest crop - cute but not too short!

Choose XS-2XL
In 1984, Coleman Young launched a tourism slogan, "Do It In Detroit." What did they want you to do? Come here. And spend money. Of course, because people are people -- who would have guessed -- it flopped rather fabulously as "There are a lot of different connotations to the words 'do it in Detroit,'" said William M. Lane, an executive at the JWT advertising agency in Detroit... 'We were afraid of what some people might want to do.'"

The slogan "Do it in Detroit" was adopted, mainly in an effort to encourage people from the suburbs to shop and dine downtown. Despite these efforts, Mayor Young's attempt to transform Detroit's image was, in the end, not very successful.

Hand printed in the USA in our Detroit Michigan studio, located in Historic Eastern Market.

This guy has cool friends you'll like!