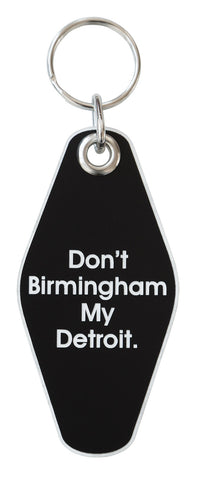 Don't Birmingham My Detroit, Motel Style Keychain
$ 6.00
Don't Birmingham My Detroit, Motel Style Keychain. Little dogs, yoga mats, little dogs on yoga mats, plastic surgery, pedal pubs, $7 coffees, $20 whiskeys, $3000 lofts ... and all the people that make those things even worse? No. Just stop it. 75 North is that way, it's not hard to find, Kid Rock is calling you home, it's past your bed time.
• Matte black front. White reverse, engraving, & border
• Tag Size: 3.5" x 1.75"
• Engraved 1/16", 2 ply durable acrylic
• Chrome grommet, jump ring & split key ring

We're kidding.

kind of.

ok not really... Can't get enough? See it on other things!

Are you the Detroitiest of them all?
A Well Done Goods by Cyberoptix original, these don't exist anywhere else! Custom designed in our Detroit, Michigan studio. Made in the USA. This item is available for immediate shipping.
This guy has cool friends you'll like!