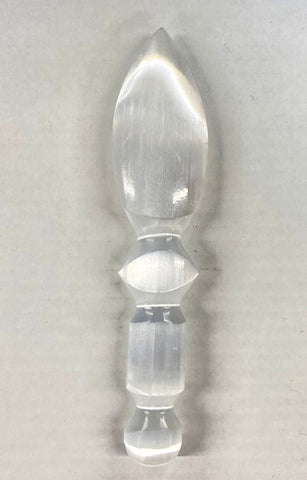 Selenite Athame, Hand-Carved Selenite Dagger
$ 15.00
Hand-Carved Selenite Athame.
Selenite is a soft stone, and one of the few natural crystals that can be quite easily carved into all your favorite shapes. This beauty won't really help you much in a dark alley, it is designed for metaphysical cutting of ties rather than meatspace cutting. An Athame is a ritual tool used to direct energy and draw boundaries.
Each is hand caved and unique!
Stone origin: Morocco

About 8" long
Selenite, or satin spar is a stunning crystallized form of Gypsum. Protect your peace and yourself with this stunning hand-made selenite knife. Stay safe in these astral streets and look good while doing it. Kick that negative energy to the curb, and cleanse allllllll the things.  

You will receive one similar to the photograph; however, each Selenite knife is a natural stone and will vary slightly, but all are really quite similarly made. Fear not though, one of mineral specialists will intuitively select the perfect stone for you!
This guy has cool friends you'll like!