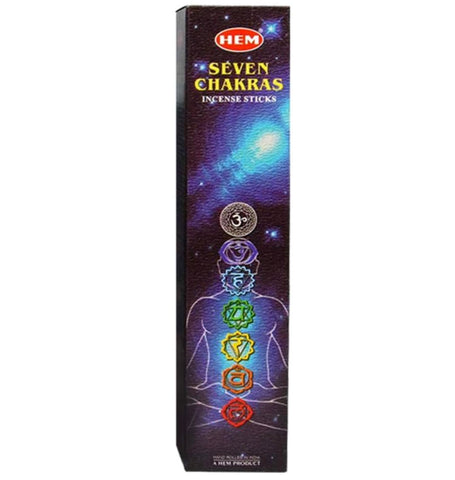 Hem Seven Chakras Incense, HEM Incense Sticks, Siete Chakras Large Pack
$ 5.00
Founded by three brothers in the year 1983, HEM is now ranked as one of the best agarbatti (incense) manufacturing companies in India and across the world. With state-of-the-art manufacturing facilities located at Mumbai and Bengaluru, they manufacture a vast range of perfumed agarbatti. 
Wood, Resin, Bamboo

Quantity: 1 box of 35 grams contains 7 different incenses
Fragrances :ROOT, SACRAL, SOLAR PLEXUS, HEART, TROAT, THIRD EYE, CROWN

One pack - 7 pouches of 5 sticks each

Fair Trade & Green Product Certified Manufacturer 

IIFRA standards for Fragrance Manufacture

Usage of 100% recyclable materials in their packaging

Zero-waste, biodegradable

Made in Mumbai, India

Imported directly from their UK distributor

Non toxic, all natural organic and herbal
An interesting point is that in addition to perfumers, HEM Corporation also has aromachologists on staff. These individuals study the effects certain scents have on the human psyche and how they relate to emotions and the way a person experiences those emotions. This is one reason why HEM creates such captivating fragrances that connect with their customers!
Agarbatti derives its name from Agarwood, and was commonly used in the production of incense. 'Ayurveda', the alternative Medicine system with Indian roots also speaks about the holistic significance of agarbatti fragrances. Its use was promoted by the sages or 'Rushis' for spiritual, cleansing and medicinal purposes. The practice of burning. Agarbatti is done to spread fragrance and usher in good energy. The aroma also has the potency to transport your senses to a tranquil place where your mind can bind spiritually with the divine. 
This guy has cool friends you'll like!