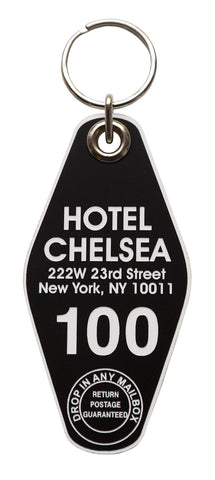 Hotel Chelsea, Motel Style Keychain. Room 100
$ 6.00
Hotel Chelsea Motel Style Keychain, Room 100. Sid and Nancy's room, of course! Notable for it's star-studded list of residents, this infamous New York hotel lives on in the form of a vintage style motel room key tag!
• Black front. White reverse, engraving, & border
• Tag Size: 3.5" x 1.75"
• Engraved 1/16", 2 ply durable acrylic
• Chrome grommet, jump ring & split key ring
A Well Done Goods by Cyberoptix original, these don't exist anywhere else! Custom designed in our Detroit, Michigan studio. Made in the USA.

This item is available for immediate shipping.
This guy has cool friends you'll like!