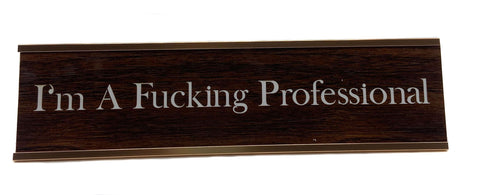 I'm A Fucking Professional, Office Desk Nameplate
$ 28.00
I'm A Fucking Professional, Office Desk Nameplate. Are you a real serious business bitch?! Well us to so we have these on everyones desk. Let em know you're here to get shit DONE!
• 2x8 inches 
• Laser engraving
• Gold tone aluminum
• Faux wood grain


In a hurry? This item is ready to ship!
This guy has cool friends you'll like!