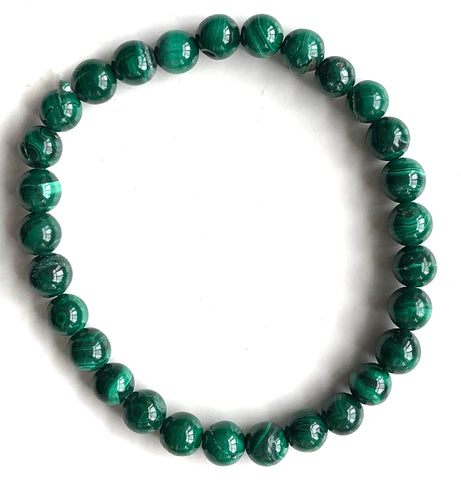 Malachite, Rare Stone Bead Mala Stretch Bracelet
$ 14.00
Malachite, Rare Stone Bead Mala Stretch Bracelet.
 Energetically, 
Malachite is said to be a stone of transformation, helping to balance both sides of the mind, as well as the emotions. Malachite is also a stone of protection, helping in repelling negative energies; it can be used for balance, confidence, and abundance.
Each is unique
Stone origin:

Democratic Republic of the Congo



Choose ~6mm or ~8mm beads
Some of the first malachite deposits used decoratively were located in Egypt and Israel over 4000 years ago. Much of the malachite entering the lapidary market today is from deposits in the Democratic Republic of the Congo.


Nearly all of our stretch bead bracelets are the same price, but we've found some rare stones for you that are just a little more.
This guy has cool friends you'll like!