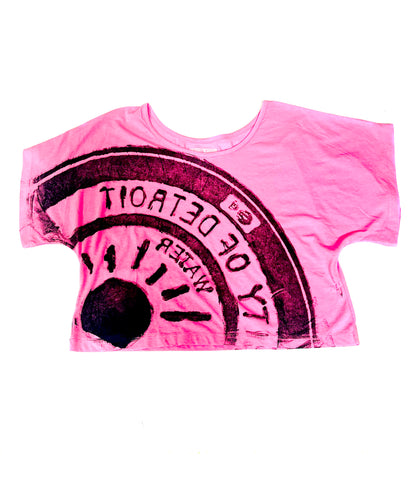 Manhole Cover Women's Crop Top. Spirirt Of Detroit Tire Print, Pink
$ 32.00
Manhole Cover Women's Cropped T-Shirt. Spirit Of Detroit Tire Print, Pink. Ever go "drainspotting?" These 300b cast iron behemoths we drive over every day are often adorned with beautiful imagery, and are perfect for all-over prints on shirts!  We make these by applying printing ink directly to the metal, with a reverse print as the result. While we don't know the date of this particular cover, we love the auto industry/tire and wheel reference.

Premium jersey, 100% cotton

Waist-cropped length, comfortable flowy/boxy silhouette - NOT a short revealing crop top!

Wide neck
Each is printed one at a time, on the street
Non-toxic, waterbase printing ink
Black print on turquoise
Heat set in-studio for total permanence in washing
Each is unique, on-of-a-kind!
Choose XS-L
Women's cut, runs a bit big and boxy. 
Human in the photos typically wears a small, and is shown wearing a small.
New from Well Done Goods. Hand printed in Detroit. We may not be the first to ever do this technique, but it sure is fun! You can do it too, but we've save you the mess and clean-up time, and we get some pretty strong arms. Love this manhole cover tee? See all our manhole cover designs!
This guy has cool friends you'll like!