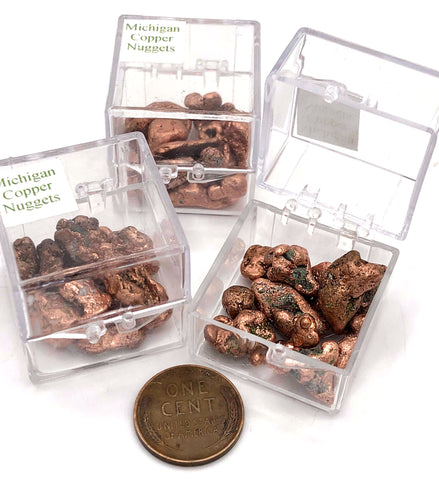 Michigan Copper Nuggets, Northern Michigan Keweenaw Copper
$ 12.00
The first mineral boom in the United States occurred in 1843 when people from all over the continent began to chase the copper, silver and iron of Michigan's Upper Peninsula. These mines were in commercial operation for more than a hundred years.
Standard "perky" box, about 1 inch square

One box of copper nuggies

Found in Northern Michigan "Copper Country"
Copper Country is highly unusual among mining districts in that the copper mined was predominantly in its elemental aka "native" form, rather than in the form of compounds (mostly oxides and sulfides) that form the basis of the copper ore at almost every other copper-mining district.

Each stone is unique and beautiful so please expect slight variations in color, texture, and size. 

This guy has cool friends you'll like!