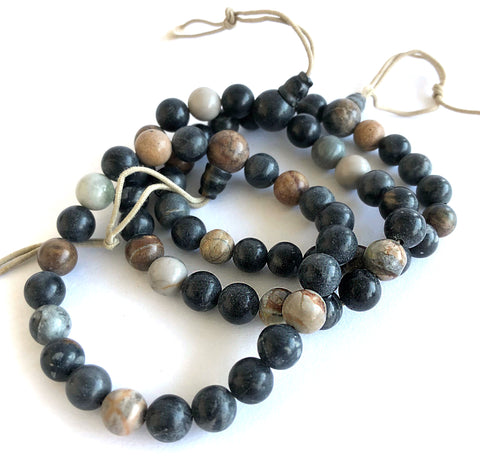 Mixed Dark Jasper Stone Bead Mala Bracelet
$ 9.00
Mixed Dark Jasper Stone Bead Mala Bracelet.
Energy workers say this type of grey Jasper is a supreme protector and reminds us to help each other. It helps to make us focus, make quick decisions and allows us to put thoughts into action. Can't argue with that!?
Each is unique
AA quality stone beads

Mined in New Zealand
Not 100% on your way to Nirvana, yet?  That's totally ok! Our mala bracelets are beautiful simply as accessories, and they're great stress relievers. Gently rolling a few of them back and forth on your wrist's pressure points really does seem to help one's chill, when one...maybe is not very chill.
This guy has cool friends you'll like!