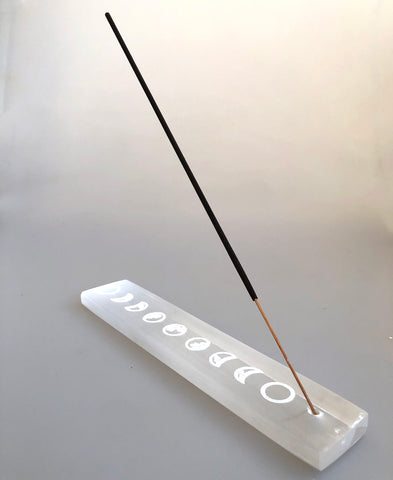 Moon Phases Engraved Selenite Incense Burner
$ 15.00
Moon Phases Engraved Selenite Incense Burner.
Selenite is a soft stone, and one of the few natural stones that can be easily engraved with beautiful patterns.
Approximately 10.5" x 1.5"

Holds most standard stick incense sizes

Each is laser engraved and unique!
Stone origin: Morocco

Selenite, or satin spar is a stunning crystallized form of Gypsum and is said to be connected to the moon. A calming stone, you can have the beauty of the moon right in the palm of your hand, or your desk or by your bed - wherever you need some sweet moon vibes! Kick that negative energy to the curb, and cleanse allllllll the things.  
You will receive one similar to the photograph; however, each Selenite incense burner is made from natural stone and will vary slightly, but all are really quite similarly made. :)
This guy has cool friends you'll like!