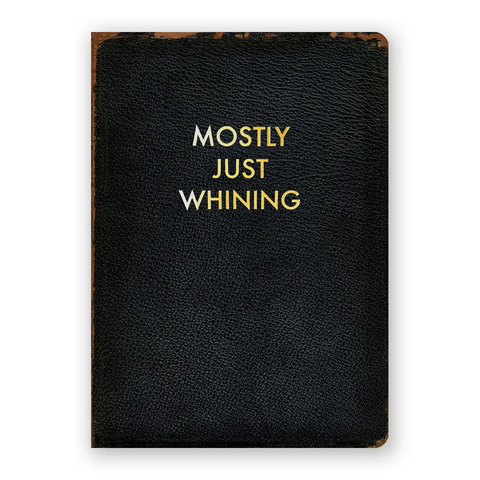 Mostly Just Whining. Gold foil stamped Journal, by The Mincing Mockingbird
$ 15.00
If you're trying to stop whining on your socials like we are, you can still get it all out - right here in ink. It's even got worn-looking edges to add to the tension. Shareable, albeit more slowly than the socials.

120 sheets of lined paper.

Gold foil-stamped cover.

Interior: Ruled

7 x 5 inches.

Based in Joshua Tree, CA.
Made by artist duo Kim Bagwill and Matt Adrian, two married artists and designers based in Joshua Tree, California. Since 2008 they've been creating art, books, stationery and gifts that amuse and delight, inspired by the idea that beauty and humor are not mutually exclusive. Connecting with people who love what they do remains a constant source of joy.
This guy has cool friends you'll like!