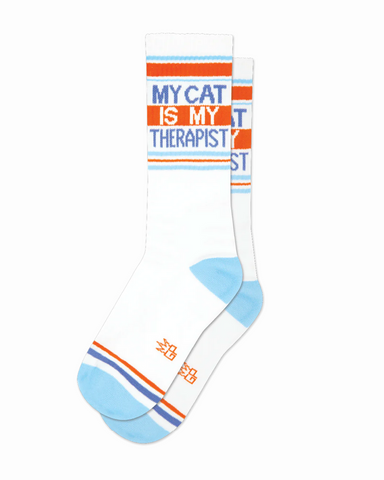 My Cat Is My Therapist Gym Crew Socks, by Gumball Poodle. Made in USA!
$ 14.00
Get these comfy gym socks that celebrate the REAL therapists in your life... Cats! You can talk to them for hours (or 50 minutes, depending on how they bill your insurance) about anything and everything! Talk all you want and they'll make the same nonplussed face at you... and just when you're not sure if you're having a breakthrough or a breakdown... they'll saunter up, rub their heads into your hands and whisper... ever so softy... "we have to stop for today".
Made in the USA. REALLY MADE, not just designed.  Like woven!

61% Cotton, 36% Nylon, 3% Spandex.

One pair.

Cushioned terry bottom for enhanced fit and feel.

Unisex, one size fits most.
Fits women's size 6 US to men's size 13.
Gumball Poodle draws on bold colors, vintage style & the art of self-expression to produce fun socks that let you tell the world what you think without saying a word. Fun, high-quality socks, made in the USA. Woman-owned company.
This guy has cool friends you'll like!