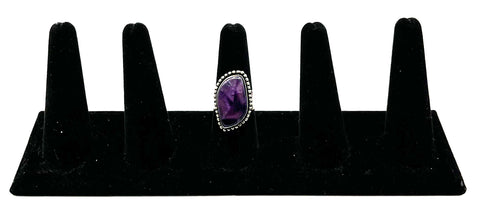 Silver Plated Amethyst Adjustable Ring, by Anju. Handmade Fair Trade Jewelry
$ 29.00
Silver Plated Amethyst Adjustable Ring. 



Anju's passion for jewelry and design started at a very early age. She was born in the beautiful and colorful state of Rajasthan in India, surrounded by a rich culture, natural beauty, and a creative environment. In 1993 Anju and Gaurav Agarwal invested in their future and moved to America. While Gaurav spent his days working on his Ph.D, Anju began using her eclectic eye for beauty and flare, to make jewelry and sell it at local craft fairs. As her jewelry sales began to take off, Gaurav quit his job so he could focus all of his attention on helping Anju grow her jewelry business.

On a trip back home Anju met a talented but struggling group of artisans that could not keep consistent work. It was then Anju decided to partner with this artisan group and move manufacturing back home to India where she knew she could provide these artisans with consistent work. This initiative empowers marginalized women to earn their own income and gives them the freedom to spend it as they see fit.

This guy has cool friends you'll like!