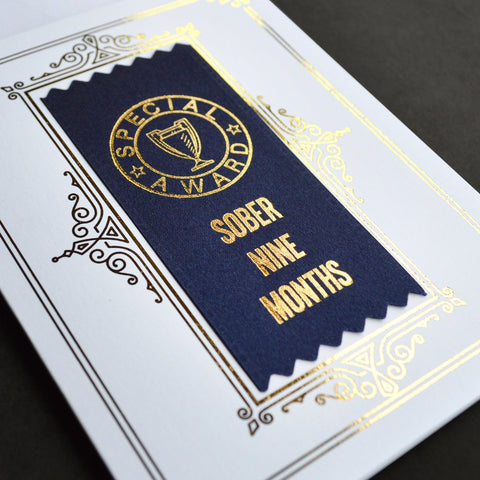 Sober Nine Months Ribbon, New Mom Funny Card
$ 6.50
Sober Nine Months Worst Place Ribbon Card. Yeah, you did it for your incubating wee one, we know! Now crack open a cold one in the delivery room and get back to it!  Give your friends a gentle ribbing with these golden ribbons.
    •    Gold foiled satin mini ribbon on a quality greeting card. Show just how special you truly are!
    •    Gold hot-stamped graphic
    •    Envelope included
    •    Hand made in Canada

In the game of life there's first place, and then there's worst place. Some people just can't win, whether they're spreading illness at work, spreading menace in the parking lot or just generally spreading bad vibes wherever they go. Fortunately, they've created the perfect consolation prize for those folks who can't get it together. Bold Face's Worst Place Ribbons celebrate and honor the failures, frauds and general eff-ups among us. Plus, to ease the sting of the truth, they've designed them so they're shiny, pretty and cute.