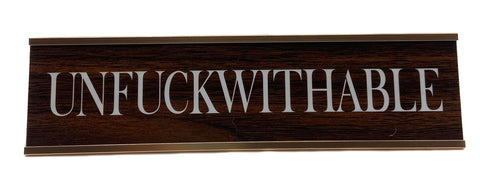 UNFUCKWITHABLE, Office Desk Nameplate
$ 28.00
UNFUCKWITHABLE, Office Desk Nameplate. Somedays, most days, well maybe all days you just don't want to be bothered. So let em' know! I am not the one, not today, or ANYDAY!
• 2x8 inches 
• Laser engraving
• Gold tone aluminum
• Faux wood grain

In a hurry? This item is ready to ship!
This guy has cool friends you'll like!