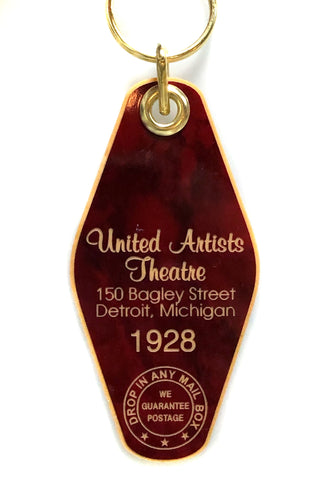 United Artists Theater Building, Motel Style Keychain
$ 6.00
United Artists Theater Building, Motel Style Keychain. The United Artists Theatre Building is a vacant high-rise tower in downtown Detroit, Michigan, standing at 150 Bagley Avenue. It was built in 1928 and stands 18 stories tall. The building was designed by architect C. Howard Crane in the renaissance revival architectural style, and is made mainly of brick.
• Red faux marble front. Gold reverse, engraving, & border
• Tag Size: 3.5" x 1.75"
• Engraved 1/16", 2 ply durable acrylic
• Brass grommet, jump ring & split key ring

The 18-story United Artists Theater Building, 150 Bagley St., will be transformed into a 148-unit residential building and is scheduled to open in late 2023.
A Well Done Goods by Cyberoptix original, these don't exist anywhere else! Custom designed in our Detroit, Michigan studio. Made in the USA.

This item is available for immediate shipping.
This guy has cool friends you'll like!