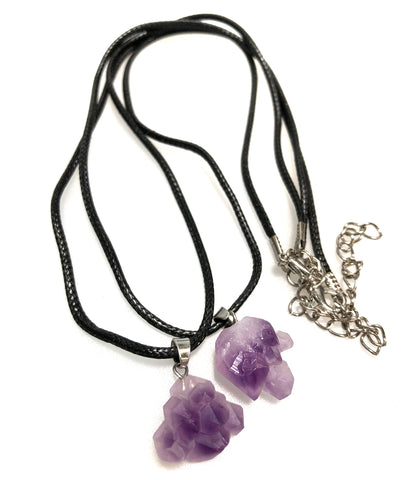 Amethyst Crystal Floater Pendant, Waxed Cotton Cord & Clasp
$ 10.00
Amethyst Crystal Floater Pendant, Waxed Cotton Cord & Clasp. Delight your neck with this sweet little chunk. Each stone is unique, so shape, clarity and size may vary.
• 18" Waxed cotton cord w/ extender & lobster clasp
• Natural amethyst stone

►ABOUT THE STONES:

"Floaters" are not just in your eyes. Did you know that crystals can be called floaters too? If a crystal or crystal cluster is completely crystallized all around, with no visible point of attachment to a matrix, it is a floater or single crystal. These amethyst floaters grew in magma and were picked, (like fruit!!!) from the extremely soft volcanic rock. Floaters can also be fragments of shattered crystals that have "rehealed," that is, new crystals have then grown over the fragment and repaired the broken surface(s).

This guy has cool friends you'll like!