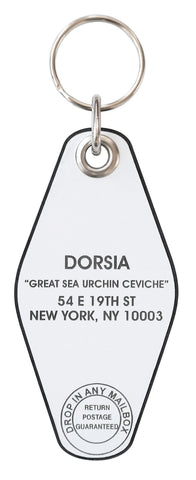 Dorsia Restaurant Motel Style Keychain
$ 6.00
Dorsia Restaurant Motel Style Keychain: Got a reservation? How about 8:30? Make sure to try the sea urchin ceviche. Get your inner Patrick Bateman on with this motel style keychain tag that pays homage to the cult film, American Psycho.
• White front, black reverse, engraving, & border
• Tag Size: 3.5" x 1.75"
• Engraved 1/16", 2 ply durable acrylic
• Chrome grommet, jump ring & split key ring
Related: Feel the need to feed stray cats to your favorite ATM?

A Well Done Goods by Cyberoptix original, these don't exist anywhere else! Custom designed in our Detroit, Michigan studio. Made in the USA.
This guy has cool friends you'll like!