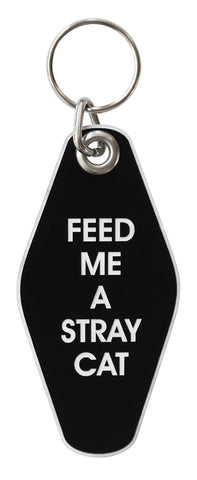 Feed Me A Stray Cat, Motel Style Keychain
$ 6.00
Feed Me A Stray Cat, Motel Style Keychain: At an ATM and see something a little different than please insert card? Keep kitty safe, and instead get your inner Patrick Bateman on with this motel style keychain tag that pays homage to the final scene in American Psycho.
• Matte black front, white reverse, engraving, & border
• Tag Size: 3.5" x 1.75"
• Engraved 1/16", 2 ply durable acrylic
• Chrome grommet, jump ring & split key ring

Related: Need a res at Dorsia?

A Well Done Goods by Cyberoptix original, these don't exist anywhere else! Custom designed in our Detroit, Michigan studio. Made in the USA.
This guy has cool friends you'll like!