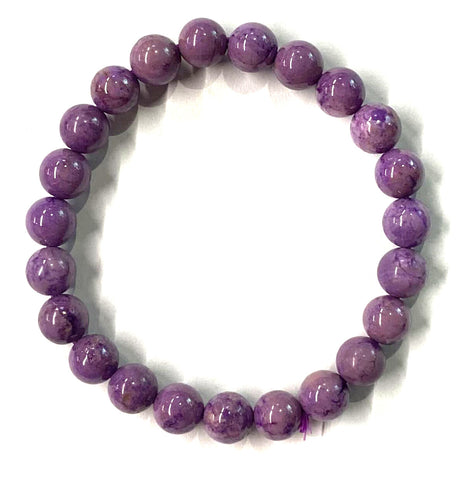 Phosphosiderite Round Stone Bead Mala Stretch Bracelet
$ 18.00
Phosphosiderite is a rare mineral named for its main components, phosphate and iron. The
siderite
at the end of phosphosiderite comes from the word "sideros", the Greek word for iron. The vein-like streaks found in this beautiful orchid-colored stone stone are the mineral cacoxenite.
Each is unique
8 mm

Stone origin: Chile
Energy workers say that Phosphosiderite's energy has a very soothing, gentle and calming vibration, which helps to alleviate stress and anxiety. Its strong heart energy helps to open us up to receiving more love and joy, as it connects with the higher heart chakra. Prayer bead bracelets are a great compliment to your meditation routine — used for keeping count while reciting, chanting, or mentally repeating a mantra.
This guy has cool friends you'll like!