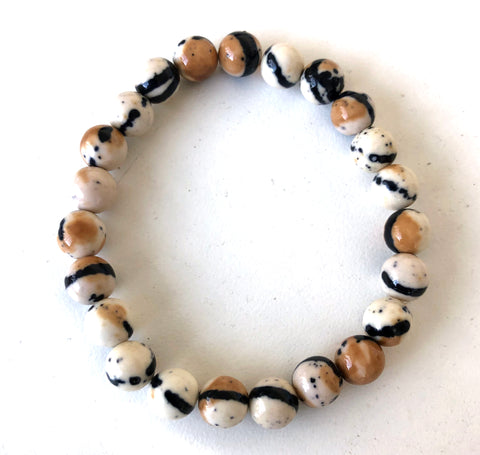 Zebra Stone Bead Mala Bead Bracelet, Black & White Onyx
$ 9.00
Zebra Stone Bead Mala Bead Bracelet, Black & White Onyx.
Isn't this a great pattern? N
amed for its exotic black and white stripes, geologically it is actually an onyx and calcite marble, not Jasper which it is commonly mistaken as. And that is your stone bead lesson 101 for the day!
Each is unique
8mm stone beads

Stone origin: Mexico

Not 100% on your way to Nirvana, yet?  That's totally ok! Our mala bracelets are beautiful simply as accessories, and they're great stress relievers. Gently rolling a few of them back and forth on your wrist's pressure points really does seem to help one's chill, when one...maybe is not very chill.
This guy has cool friends you'll like!