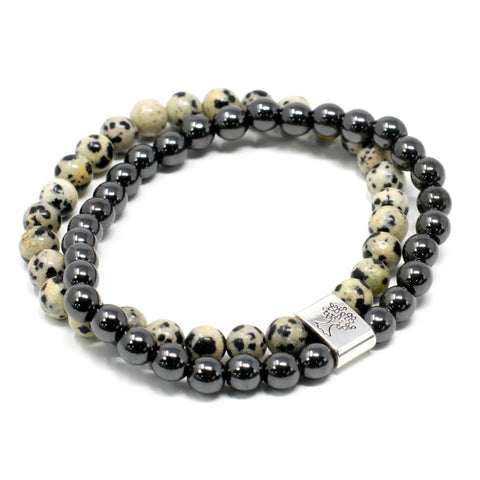 Sold Out
Dalmatian Jasper and Hematite, Double Strand Stone Bead Mala Stretch Bracelet
$ 12.00
This product is unavailable
What a fantastic combination!

Energy workers say that if you tend to overthink things, dalmatian stone will help you get out of your head and into your body. This stone helps you connect and ground, and helps you to feel more fully part of this world.

Hematite is the mineral form of iron oxide. Hematite beads are shiny and black when polished, are quite heavy for their size, and feel really great being worn! Metaphysically, it's said to be wise to have Hematite bracelets about when you are working with higher-chakra gemstones, to keep you grounded.
Each is unique
Approx. 7mm stone beads
Silver-tone connector bead
This guy has cool friends you'll like!