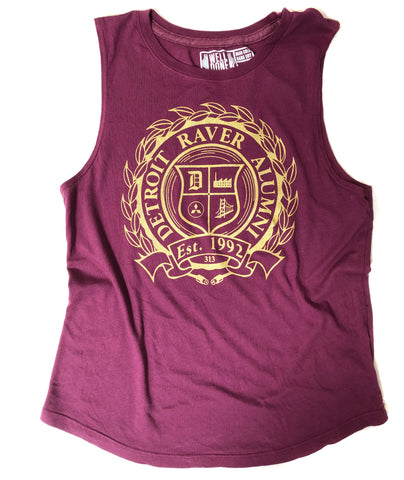 Detroit Raver Alumni Tank Top. Women's Pima Cotton Tank - LIMITED EDITION!
$ 30.00
Some went to Harvard, we went Under the Bridge. We got our Masters at Zoot's, lettered at 1217, and got some extra credit at The Bankle.

3 oz. Ultra premium lightweight Supima Cotton jersey
50% micro modal; 50% Pima cotton
Gold on burgundy


Side seamed with all edges and openings hemmed

Choose XS-L

Relaxed fit, but runs true to size. Please select your usual size
You spent years preparing for your degree. You took all the right supplements to keep your brain in tip-top shape.  You got lots and lots of sleep.  Treated your body with reverence, like the temple it is.  Now you have the piece of paper to show for your hard work, even if it is about 1/4" square and you ate it.
Handprinted in the USA in our Detroit Michigan studio, located in Historic Eastern Market. Fully USA made shirt - sewn in Los Angeles.

Need sleeves?  Check out our shirts in the same design! 
This guy has cool friends you'll like!