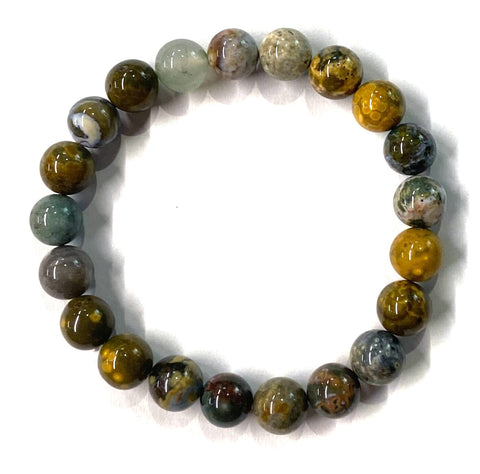 Ocean Jasper Round Stone Bead Mala Stretch Bracelet
$ 16.50
Ocean Jasper® is a trademarked name for a revered multicolored stone from northwestern Madagascar, typically with spherulite "orb" patterning. Commonly described as an orbicular jasper, more recent research suggests geologically it is chalcedony instead. 
Stone origin: Madagascar. 

Analalava district of the Sofia region in the former province of Mahajanga




Beads measure ~9 mm

First shown in Tucson in 2000
Energetically Ocean jasper is said to provide calm, uplifting energy to the holder in trying times, feeding into a more optimistic outlook on life. The stone aids clearer communication, and enhances self-confidence as well as self-insight
This guy has cool friends you'll like!