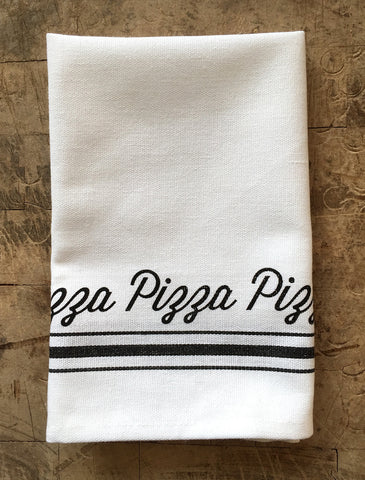 Sold Out
Pizza Print Cloth Bistro Napkins, Set of 4
$ 32.00
This product is unavailable
Pizza Print Bistro Napkin, Set of 4. Pizza. The most important food group! Make your food game strong. No matter what you're scarfling down for dinner, whether it be a pizza bagel or the finest slice from Sicily, cloth napkins show it was made with love. Treat yourself and wipe that orange grease off in style!
• Set of 4 napkins: "Pizza"
• Sturdy, easy-care 55% cotton / 45% poly
• White with black stripe
• 4 sewn edges
• Measures approx. 23" x 17"
• Printed image is ~12" long, along one stripe 

Paper napkins are crapola. These sturdy cloth guys definitely aren't! Infinitely reusable. New from Well Done Goods. Hand screen-printed in the USA in our Detroit Michigan studio. 

This guy has cool friends you'll like!